Applied Computational Electromagnetics Society (ACES)
Student Programming Competition
Speed up the electromagnetic analysis of Radar cross-section (RCS)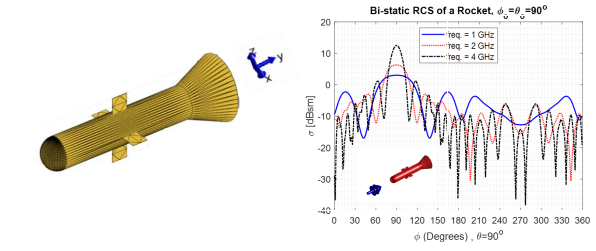 Full Informational Flyer

To request a copy of the software and more information on tutorials click here.


Sponsored By:


---

Learn about electromagnetic analysis Use and compare different electromagnetic analysis techniques to compute the RCS of objects excited with plane waves. In this competition, you will analyze the RCS of a rocket described by means of an STL file defining its geometry.

Import and visualize the STL file representing the rocket
Use any of these well-known electromagnetic methods FDTD, MoM, or FMM to compute the rocket RCS at different frequencies and different incident plane wave angles
Compare results, and identify pros and cons
Use complimentary MATLAB and Antenna Toolbox to develop, verify, and document your solution.
Using a PC with a multicore processor and/or GPU and the complimentary MATLAB Parallel Processing Toolboxes to accelerate the RCS analysis without compromising the fidelity of the results.
Write a technical paper and share it with an international community of experts across academia and industry
Papers from the top three team winners will be encouraged for submission to ACES Journal for publication.

Prize
The three teams with the highest performance will be selected as finalists and will be invited to participate in the final competition presentation at ACES 2023. The champion team will receive a grand prize of $300. The first and the second runner-up will receive a prize of $200 and $100, respectively, in addition to complimentary conference registrations to all and expedited paper publication in ACES Journal.

Important Dates
July 14, 2023 Competition announcement.
October 4, 2023 Team registration ends. Register by email to sima_noghanian@ieee.org.
March 4, 2024 Teams work submission.
April 1, 2024 Announcement of the finalists.
May 19-23, 2024 Team presentation at ACES 2023 Conference.